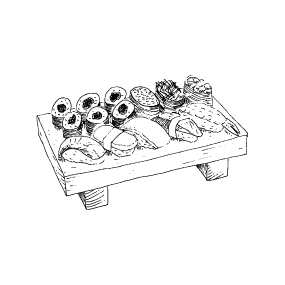 Fancy something else? See our full menu here!
8pcs Chirashi Futomaki 6pcs Salmon Nigiri 6pcs Bluefin Tuna Nigiri 6pcs Salmon Sashimi 6pcs Bluefin Tuna Sashimi 8pcs Spicy Tuna Uramaki 8pcs Salmon & Avocado Uramaki
---
8pcs Salmon Avocado Uramaki 8pcs Spicy Tuna Uramaki 8pcs Spicy Salmon Uramaki 8pcs Philadelphia Salmon 8pcs California Crab Uramaki
---
6pcs Salmon Nigiri 6pcs Akami Nigiri 6pcs Sweet Prawn Nigiri 6pcs Chutoro Nigiri 6pcs Scallop Nigiri
---
38pcs selection of vegan friendly sushi consisting of uramaki, futomaki and nigiri
---
18 course chefs sellection of nigiri and shashimi. Ideal for Two!